Elizabeth Yaworsky (Hons) BSc, ND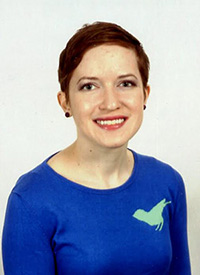 I am excited to be back in Windsor, practicing naturopathic medicine where I was born and raised. Before becoming a naturopathic doctor I completed my undergraduate Bachelor of Science (Hons) degree at the University of Windsor in Biological Sciences with Thesis and a minor in mathematics, graduating with Great Distinction in 2009. After graduation, I moved to Toronto and began a Master's degree at the University of Toronto in Molecular Genetics. I quickly realized that research was not a good fit for me, and knew that I had to make the difficult decision to switch paths and find a profession that I was truly passionate about. Luckily, I didn't have to look far, as I discovered naturopathic medicine and knew that I would love working with people to help them reach their health goals.
Over the next 4 years I attended the Canadian College of Naturopathic Medicine (CCNM) in Toronto, where I obtained my Bachelor of Naturopathy degree in 2014. During my clinical year at CCNM I had the pleasure of treating patients under the supervision of licensed Naturopathic Doctors, and gaining hands on experience in all the naturopathic modalities. I treated a wide variety of conditions, including migraines, menstrual cramps, skin conditions, arthritis, autoimmune disease, anxiety, depression, and high blood pressure. I was selected to be on the adjunctive cancer care shift where I supported patients in various stages of cancer treatment, and also had the opportunity to spend a semester at the Sherbourne Health Centre providing free naturopathic care to patients living with HIV/AIDS.
With my strong scientific background, I try to blend science with natural healing methods to provide safe and effective treatments that address the whole person. I am trained as a general care practitioner, and have a special interest in gastrointestinal health, as well as stress management with a focus on mind-body connection. I strongly believe that health is more than just the absence of disease, and that having a chronic disease does not mean that you are in poor health. That being said, I am passionate about working with individuals with chronic illness to help co-manage conditions, along with medical doctors, to optimize physical, mental and emotional health.
I am a member of the Canadian Association of Naturopathic Doctors, Ontario Association of Naturopathic Doctors, and registered with the Board of Directors of Drugless Therapy- Naturopathy. To continue to build on my knowledge and therapeutic skills, I participate in seminars and continuing education courses on a regular basis.
Real healing can be scary. It doesn't happen overnight, and in today's fast paced world it's hard to find the time that we need to properly heal. For most of us it's even harder to admit when we need help (even though every single one of us does at one time or another). So thank yourself for being courageous and taking the time to work toward reaching your health goals. If you decide that naturopathic medicine is right for you, whether it be for disease prevention, chronic disease support, or an acute condition, I would be honoured to be a part of your health care team.
---
Naturopathic Health Care
Naturopathic Doctors (NDs) are primary health care providers that blend modern scientific medical knowledge with traditional and natural forms of medicine. As a naturopathic doctor, I will strive to understand all aspects of your health in order to implement safe and effective therapies. These therapies will address the root cause of your health concerns to help you achieve sustainable health and wellness. Naturopathic medicine is a comprehensive, prevention-based approach to health, which considers physical, mental, and emotional aspects of your life to both treat and prevent illness. NDs collaborate closely with other healthcare professionals, including medical doctors and chiropractors, through consultation and referral.
NDs must complete an undergraduate degree, followed by an intensive 4 year naturopathic medical program at one of 7 accredited schools in Canada or the United States. NDs receive extensive training in a variety of disciplines, with over 4,100 hours of classroom training in medical science, naturopathic principles, and therapeutics, as well as 1,200 hours of supervised clinical practicum. All NDs in Ontario have written the North American Naturopathic Physicians Licensing Examinations (NPLEXI &NPLEXII), as well as the Ontario Board examinations, and are licensed by the Board of Directors of Drugless Therapy- Naturopathy (BDDT-N).
Naturopathic medicine benefits nearly all chronic and acute health conditions. The focus is not only on treatment, but also on prevention, so it can be used by people of all ages with varying levels of health. As an ND I treat the same conditions as a family doctor, and in the event that I am unable to treat your condition, I will be happy to consult or refer appropriately.
During my 4 years at the Canadian College of Naturopathic Medicine, I gained experience and training in various treatment modalities. These modalities include:
Clinical Nutrition
Lifestyle Counseling & Stress Management
Traditional Chinese Medicine & Acupuncture
Botanical Medicine
Homeopathic Medicine
Hydrotherapy
Physical Medicine & Naturopathic Manipulation
Overview of Treatments Provided
Clinical Nutrition
Food acts as a foundational medicine-although sometimes slower to take effect, positive dietary changes profoundly affect all systems of the body. The connection between diet, and health has been well established, and it is known that a healthy diet can help prevent chronic disease, as well as treat active illnesses. We will work with your current diet, and within your comfort zone, to implement dietary changes that will provide a lasting positive impact on your health. Depending on your concern, special diets may be used to identify food sensitivities and treat a variety of illnesses. In addition to dietary changes, individualized nutritional supplementation may be recommended when appropriate.
Lifestyle Counseling & Stress Management
Lifestyle counseling is a fundamental naturopathic modality that encompasses a wide array of strategies. This includes, but is not limited to; addressing sleep, physical activity level, and stress level to remove obstacles to health and support the healing process.
Strategies may involve sleep hygiene, an exercise prescription, and mindfulness exercises.
Traditional Chinese Medicine & Acupuncture
Traditional Chinese Medicine (TCM) focuses on re-establishing the proper flow of energy (known as Qi) in the body, to restore balance and bring you to a healthy state. Thin needles are inserted into specific acupuncture points to influence the underlying Qi and treat your health concern. From the perspective of Western Medicine, acupuncture acts by stimulating the body to release endorphins, relaxing muscles, and increasing circulation in the area needled. In some cases Chinese herbal formulas may be used along with acupuncture to support self-healing and alleviate symptoms. Cupping and acupressure may be used as part of your treatment as well. Acupuncture can be used for virtually all health concerns, including pain, digestive issues, and mental/emotional concerns.
Botanical Medicine
The use of plants for to improve health and relieve suffering is as old as medicine itself and is the foundation of modern pharmacology.
Botanical preparations including teas, tinctures, tablets and topical creams may be recommended to alleviate symptoms and support healing.
Homeopathic Medicine
Homeopathy is an energetic form of medicine based on the principle of 'like cures like'. Homeopathic remedies may be indicated for acute or long term health concerns, and act by stimulating your body's own self-healing potential.
Hydrotherapy
Hydrotherapy involves the use of water as an agent to assist with detoxification and to stimulate the healing powers of the body. This includes gentle application of hot and cold water to help regulate circulation and promote healing.
Physical Medicine & Naturopathic Manipulation
Physical medicine therapies include stretching and range of motion exercises, trigger point therapy and massage, and spinal adjustments.
These function to reduce pain, decrease inflammation, strengthen muscles and correct structural problems.
If you would like more information on Naturopathic care in Ontario, please visit the Ontario Association of Naturopathic Doctors (OAND) website, located here: http://www.oand.org/
---
What to Expect
Your first appointment is all about getting to know you! We will spend most of the time discussing your health history, gathering detailed information about your current and past health concerns. To properly assess your health, a complaint-oriented physical exam is also included. Please bring a list of all current medications and supplements that you are taking, including the dosage-it may be easier to bring in the bottles! Copies of recent lab work and imaging results are important to bring with you if you have access to them. We will also discuss your health goals, and begin working together to develop a comprehensive treatment plan for future visits. Although some treatment recommendations may be given at your first visit, the majority of your treatment plan will be discussed and implemented on your second visit.
During your second visit (1-2 weeks after our initial consultation) we will continue to discuss factors that affect your physical, mental, and emotional health to help guide treatments, and initiate your individualized treatment plan.
During subsequent 30 minute visits we will continue to monitor and carry out your treatment plan. The timing of these visits will depend on your individualized treatment, and may include acupuncture. Acupuncture treatments are usually every 1-2 weeks, depending on your diagnosis.
Acupuncture visits
Acupuncture treatments will typically start on your second visit if part of your treatment plan. Please bring a pair of shorts or dress in loose fitting clothing if possible.
A note on insurance coverage
Currently, the Ontario Health Insurance Plan (OHIP) does not cover naturopathic visits. However, many private health insurance plans offered through your employer or school do provide coverage for naturopathic care. To find out what services are covered for you, and how much coverage you have per year, you can contact your health insurer. It is important to know your annual amount, amount covered per visit (often based on length of treatment), if there is a co-pay and when the coverage renews. Whether you have naturopathic coverage or not, we will work together to create a treatment plan that takes your budget into consideration.
Please note that you do not require a referral from your medical doctor to seek naturopathic care, you may book an appointment with me directly.
Book online or contact us at 519-945-4441 for appointment inquiries.